Kwalee Announces Collaboration with CrazyGames to Bring a Collection of 11 Popular Mobile Games to the Platform
18 May 2023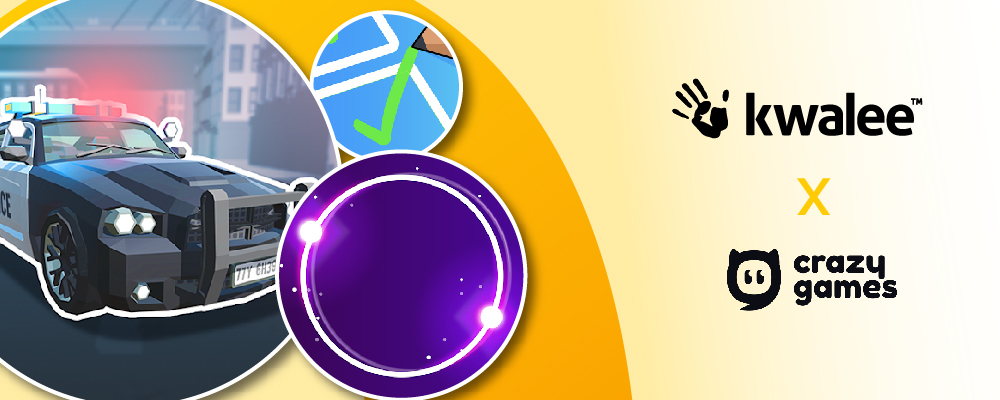 Leamington Spa, May 18, 2023 – ​ Kwalee, a leading mobile games developer and publisher, is excited to announce its collaboration with CrazyGames, a popular online gaming platform. They're working together to bring a collection of eleven highly engaging mobile games developed by Kwalee to the CrazyGames platform, offering an enhanced gaming experience to millions of players worldwide.
Kwalee has established itself as a prominent player in the mobile games industry, known for its innovative and entertaining titles that have captivated gamers across the globe. With this partnership, Kwalee aims to expand its reach and allow its games to reach a wider audience on the CrazyGames browser platform, known for its vast community of enthusiastic gamers.
The collection of eleven mobile games from Kwalee features a diverse range of gameplay experiences that cater to players of all ages and interests. Kwalee mobile games live on CrazyGames include Looper, Teacher Simulator, and Traffic Cop 3D. Additionally, Kwalee has an exciting lineup of upcoming games for CrazyGames users, including Jetpack Jump, Crazy Shopping, Hunt & Seek, Airport Security, Cinema Tycoon 3D, Flip Tumbling, Oil Digging 3D, and Line Up: Draw the Criminal.
Commenting on the partnership, William Cox, Kwalee's Head of Mobile Publishing, said, "We are thrilled to partner with CrazyGames and bring our collection of eleven popular mobile games to their platform. Kwalee's mission has always been to deliver fun and immersive gaming experiences to players worldwide, and this partnership allows us to do just that. We can't wait for CrazyGames players to enjoy our games and dive into the worlds we've created."
The integration of Kwalee's games into the CrazyGames platform is set to take place in the coming weeks, allowing players to dive into the captivating worlds and bite-sized gameplay that Kwalee is renowned for. With this partnership, both Kwalee and CrazyGames are confident in delivering an exceptional gaming experience to players worldwide.
Kwalee Media Contact
To address queries regarding this story, a career at Kwalee, a publishing deal with them, or general information about the company itself, please contact the following representative.