Kwalee Hits 1 Billion Mobile Game Installs
Since 2011, Kwalee has grown to become one of the most successful game developers and publishers, bringing fun to over one billion players worldwide.
30 January 2023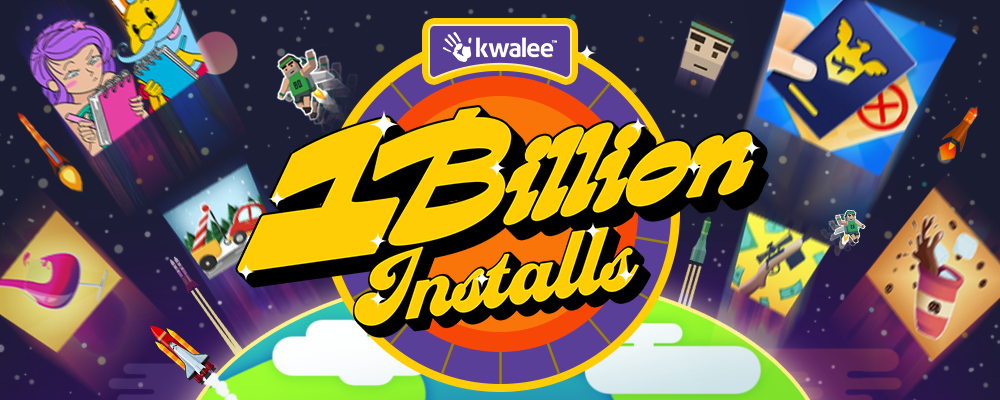 Leamington Spa, January 30, 2023 - Kwalee, a leading global game developer ​ and publisher, is ecstatic to announce that its mobile app games portfolio has reached the much-anticipated milestone of 1 billion installs. This achievement is a testament to the hard work and dedication of the entire Kwalee team, partners and the support of its loyal players. Kwalee games have been downloaded on every continent - even Antarctica.
Founded in 2011, Kwalee has become the leader of hypercasual mobile game development in the UK, and its success prompted the company to ​ open studios in India, China, and Portugal. It has consistently delivered fun and innovative titles such as Draw it, Teacher Simulator, and Airport Security. Kwalee has over 45 chart-topping games, and with over 200 million installs last year alone, it has accelerated towards the 1 billion install milestone.
Kwalee CEO, David Darling CBE, says, "We're elated to reach this milestone. As a founder of Kwalee and someone with a long history in the games industry, it's incredibly rewarding to see us reach this level of success. I've always been passionate about creating games that bring joy and entertainment to people, and to have reached one billion installs is a clear indication that we've been able to achieve that goal. 
We've always believed in the potential of mobile games as a medium to connect people from all walks of life. I'm incredibly proud of our team and their work to get us to this point, and I'm excited to still be playing Kwalee games when we hit 2 billion installs."
First introduced in 2017, Creative Wednesdays was one of the defining innovations that enabled Kwalee to achieve this astronomical success. Team members in all parts of the business are given the freedom to pitch games and share in the profits if they become a success. Every week, in addition to hearing new pitches, the full Kwalee team gathers in person and remotely to share news, trends and play a new game together. This creative culture has helped Kwalee attract top talent, with the team reading tens of thousands of applications a month for its many remote and hybrid vacancies.
In addition to the success of games developed in-house, Kwalee has built a strong community of third-party game developers from around the world. Games such as Rocket Sky, Let's Be Cops 3D and Build Your Vehicle were all developed by independent studios. They partnered with Kwalee to benefit from industry-leading marketing, monetisation, funding and development guidance from Kwalee's expert hypercasual and casual teams. Developers are encouraged to sign up to Kwalee's Publishing Portal to access free coaching and game testing.
Its strong marketing credentials and commitment to collaborate closely with talented game developers have made Kwalee the partner of choice for established and up-and-coming mobile game developers. Over 100 million installs have come from publishing external developers, with a success rate recognised by industry awards - Kwalee won Publisher of the Year at both the TIGA and Mobile Game Awards in 2022.
On this special occasion, Kwalee thanks its players, developers, and in-house teams who have driven this success. The company is thrilled to continue growing and expanding its community of players and is looking forward to many more years of successful mobile, PC and console game development.
Kwalee Media Contact
To address your queries regarding a career at Kwalee, a game development and publishing partner deal with them, or general information about the company itself, please reach out to the following company representative.