Scathe: Enforcer Edition launches with new modes, gameplay modifiers, and other improvements
Scathe: Enforcer Edition launches with new Speedrun and Arcade modes, gameplay modifiers, and other improvements
7 June 2023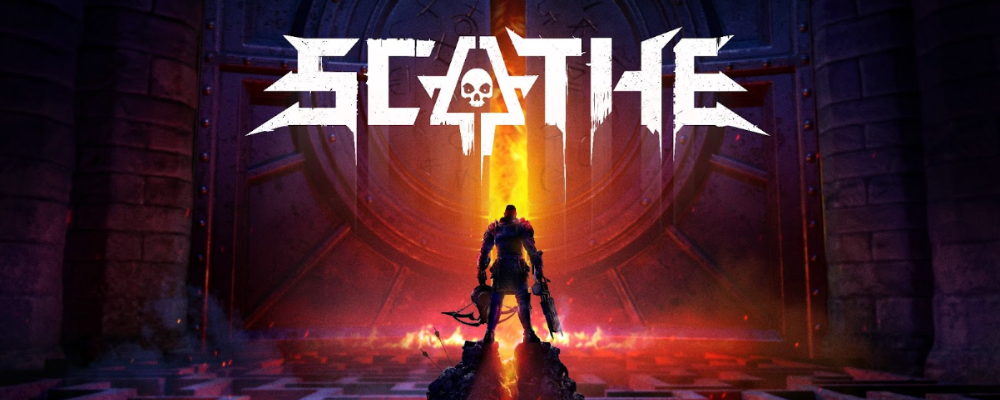 Leamington Spa, UK - 6 June 2023 - Leading UK games publisher Kwalee and three-person developer Damage State are pleased to launch the definitive update to Scathe, the adrenaline-fueled bullet hell FPS. The update brings two new modes - Speedrun and Arcade, alongside custom modifiers and various improvements, tweaks and bug fixes.
Scathe: Enforcer Edition is now available on the Epic Games Store with a 33% launch discount and is priced at $16.74, €15.40 and £13.39. ​ 
The game is also available on Steam for $24.99, €22.99 and £19.99.
Scathe: Enforcer Edition trailer:
The following features are added in the new update -
Speedrun mode:
It's time to unleash your best 'run and gun' in the all new Speedrun mode. Take on each of the Guardians in their own gauntlet, designed and ready for the records to be set.
Arcade mode:
The all new stripped back, zen mode of Scathe. Embrace the darkness and focus
only on the blood red Demons in front of you. You'll need to keep on moving to snatch a top score or you will be killed trying!
Modifiers:
Scathe now features custom modifiers to tune the game your way.
All Weapons (Start the game with every Weapon, spells too!)
Invincibility (Just non-stop death to Demons)
Constant Demon Mode (Embrace the Demon mode - permanently!)
Infinite Lives (Forget about checkpoints, just respawn where you were)
Demon Overload (Play with more Demons spawning around you)
Infinite Ammo (Forget ammo pickups, you're unlimited!)
Improvements & Tweaks:
Dash killing Demons now provides a small health gain.
Hell Hammer now vents after every clip providing a break in firing.
New Hell Hammer firing audio - bringing more boom to the room!
Head bob now defaults to zero (For a more retro feel by default)
Headshots now provide ammo.
Improved the AI spawn rates and timeouts in barrier sections.
Fleshies and other balls drop ammo on death.
Removed collisions on multiple props in zones to help smoother movement.
Bridge added to Oxide's zone to help with falling into lava initially.
Fixes:
Swarm AI no longer stops moving if one section remains.
Large improvements to AI spawning to stop them starting too close (Excludes arenas and barrier sections).
Toned down the joypad vibration when facing Sledge.
Fixed multiple areas where AI could become stuck.
Misaligned walls fixed in three zones.
Bridges would fail to descend correctly when all Demons were eliminated.
Reconnect Joypad prompt would remain static on screen after losing last life and disconnecting.
Jitters could submerge into the ground in a specific zone upon spawning.
​
For media/PR enquiries for Scathe, please contact:
About Scathe 
Scathe is an adrenaline-fueled, classic FPS with big guns and even bigger demons. You play as Scathe, Enforcer of the legions of Hell, forged from the earth by the Divine Creator themself. And you, like your fallen kin before you, must prove your worth by navigating a deviously-crafted maze, entangled with demonic evil at every twist and turn. So, grab your Hellhammer, lock'n'load and get ready to unleash your almighty fury!
About Kwalee
Kwalee is a multi-award-winning games publisher and developer based in Leamington Spa, UK, and publishes a growing catalogue of PC and console titles including Eternal Hope & Scathe, along with the upcoming titles Die By The Blade, Wildmender and ROBOBEAT. ​ 
Founded by games industry icon and Codemasters co-founder David Darling CBE, who leads a fast-growing team of global gaming experts with studios in the UK, India, China and Portugal along with remote team members all over the world, Kwalee is on the lookout for high-quality games to publish on all platforms and encourages developers to get in touch.
Officially recognised as 'Best Publisher' (Mobile Games Awards 2022) and 'Best Large Studio' (TIGA Awards 2021), Kwalee is also an ambassador of not-for-profit organisation Women in Games and a regular supporter of the charity SpecialEffect.
About Damage State 
Damage State is a video games developer situated in Dundee, Scotland, UK. Formed in 2019 by three ex-AAA industry developers sporting over 40 years combined experience. Their focus is on premium indie titles (III) and a more modern take on game development. Scathe is Damage State's debut title.